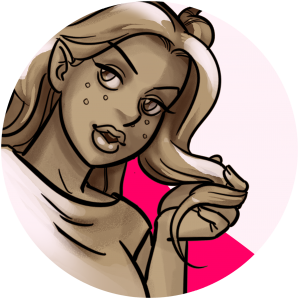 Due to the support of Pixie Trix Comix's awesome fans, and the hard work of Giz, Dave, Shou, Eisu, T, and Jason the kickstarter for Ménage à 3 Volume 7  was a grand success. Which means Dangerously Chloe 1 will see print! Though I'm no longer producing pages for Pixie Trix, I drew up four postcards to accompany DC's printing. You can see them here.

I put the VN project on hold when I got a big batch of freelance to work on recently. Now I'm torn on whether I want to get back to it, or do some work on a blog I've been thinking about doing for years– a collection of focused art and storytelling exercises. Something's going to have to give.
I know if I dip back into the VN all my enthusiasm will come rushing back, so I'm thinking that's the way to go. I could get to a playable draft on that project in a matter of weeks, whereas the blog project's timeline is better measured in months or years.
But for the moment, I'm off to catch up on my Java exercises for class.